The "connected home" is becoming a reality thanks to improved broadband networks and mobile apps. Here's a rundown of how our homes are getting smarter.
The connected home is no longer a futuristic vision — many of the barriers that blocked the realization of a smart home have eroded. Network bandwidth is widespread, connectivity is becoming more common in many traditional home products, and consumers are craving smart-home experiences.
Technology, which had presented the greatest challenge to creating a connected home, is now manageable. The broadband and home networking connections are available, mobile devices provide a natural fit as the remote control for the home, and the options for making local connections are manageable for vendors.
[Implementing IoT technologies in the enterprise is a complex task. Read How To Get Ready For The Internet Of Things]
Some of the pieces to the connected home puzzle:
Broadband networks provide the back-end connection. Without an always-on broadband connection from the home to the Internet, consumers cannot maintain awareness or exert control over connected devices when they're away. In most developed economies, broadband households are now in the majority, while high-speed mobile networks reach locales where fixed-line infrastructure is deficient.
Home networks distribute that connection throughout the digital home. In addition to broadband becoming prevalent in developed countries, routers and gateways are also the default for most broadband homes. These devices bring the Internet to every room of the house, allowing smart gadgets with communications to replace their dumb predecessors.
Smartphone and tablet apps are the new remote controls. High-end smart-home systems such as those built on Crestron Electronics systems for home automation and audio/video control rely on a central control panel as the command center of the home. But today these control panels are all over the house in the form of smartphones, tablets, and intelligent applications.
Local communication options have stabilized. The plethora of protocols that devices can use to communicate — beyond WiFi — has become manageable for vendors. Proprietary methods like Z-Wave and Insteon — both wireless communications protocols used for automating home electronics devices — have their backers. The Zigbee Alliance standard is becoming more common among low-power devices in the home, while Bluetooth Low Energy has also proliferated in mobile devices and their accessories. Gateway vendors like Revolv build a bridge across incompatible nodes by supporting multiple protocols.
So while the connected home may be in its infancy, there's no shortage of products supporting it.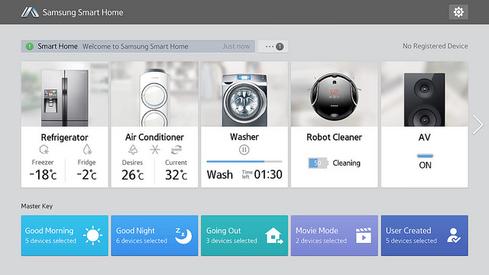 Service providers like AT&T and Comcast are expanding availability of their smart-home products. Established consumer product companies like Philips and Schlage now offer connected light bulbs and locks; retailers like Lowe's provide packaged products for do-it-yourself (DIY) consumers; and upstarts like smart thermostat maker Nest Labs (acquired by Google in January for $3.2 billion) have launched their companies based on connected alternatives to traditional household products.
More ways companies are moving the needle on connected home technologies:
Service providers have launched complete products. US cable operator Comcast's Xfinity Home allows customers to configure services from a menu of options including monitoring, professional security, and managing home energy use. AT&T has launched Digital Life, its home automation and remote control service for security, climate control, lighting, and more in 45 markets, while European operator Deutsche Telekom recently launched a similar connected-home service called QIVICON.
Product specialists have added connectivity and smarts. Companies like Whirlpool and Samsung have added connectivity to their high-end home appliances, hoping that advanced features and user interfaces differentiate their products. Philips is selling its hue lighting system at Apple's retail outlets, enabling not only remote control but also mood settings using a rich range of colors.
New entrants are popping up like mushrooms. Startups are riding the wave of inexpensive sensors and computing platforms to bring low-cost hardware and clever applications to consumers seeking to solve home control problems such as making sure plants get watered or that the oven is not left on. Connected home vendors like Supermechanical are using cloud services such as IFTTT ("if this, then that"), along with web apps and sensors to send homeowners alerts on everything from furnace malfunctions to frozen pipes to a flooded basement.
Too many companies treat digital and mobile strategies as pet projects. Here are four ideas to shake up your company. Also in the Digital Disruption issue of InformationWeek: Six enduring truths about selecting enterprise software. (Free registration required.)
Frank Gillett is a Forrester Research vice president and principal analyst and member of Forrester's Business Technology Futures team, which serves CIOs and their business partners by predicting the long-term business impact of information technology. View Full Bio